This Leachco Body Pillow is a back and belly special contoured body pillow, providing equal support for back and belly at the same time.
Unlike a more universal body pillow, this contoured body pillow is shaped to fit for this particular use and is very well designed for those with back and neck problems. It is also great for pregnant women, with strong support for the tummy and baby bump.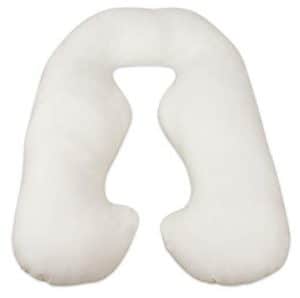 A universal body pillow may often require you to 'flip' the pillow should you turn and face the other way while sleeping, the Back 'N' Belly's almost symmetrical design will allow you to turn and use each half of the pillow the same way.
After a few uses, we found the pillow to be very comfortable, providing great hip support and back support. The material is polyester, which can warm up quite a bit on a warm day compared to cotton, however, it was still comfortable and remained quite puffy.
The two sides of the pillow were quite firm and remained firm throughout our tests. The 'U' bend in the pillow was slightly softer, giving us a nice 'cloud-like' support for our head during sleep.
The inside of the pillow has an hour-glass shaped curve, providing a contoured fit for tummy and back, and we found it to be a nice snug fit.
Specifications
Polyester Construction.
Contoured fit
Symmetrical shape with hour-glass inner curves
04 pounds
51 x 33.5 x 8.8 inches