Where some companies struggle to produce one quality fan, Lasko cranks out dozens each year. The Lasko T48310 is one of their larger tower fans, and while it resembles a small skyscraper, we think you'll be pleasantly surprised by its prowess.
The Xtra Air Performance Tower Fan is one of the biggest fans we've come across as its 48-inches high and weighs 15 pounds.
There's a handle in the back when you need to tote it around your house, and it has the company's patented Blue Plug technology for additional peace of mind.
It's a load, but relatively stable given its height as it has a large round base.
Lasko is generally forthcoming about its fan specifications, but it took a while to find the CFM rating on this one which clocks in at around 550. You can expect plenty of flow form the T48310 Xtra Air, and it has a 7-hour timer along with oscillation.
It has three speeds--though the real highlight of this fan is under the hood.
What Else Can It Do?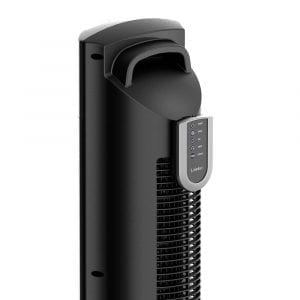 Buying a fan with filtration can raise the price tag considerably and also tends to cut down on the air power. Ionizers are an excellent alternative, and the Lasko T48310 has one of those built in.
Simply put, an ionizer uses voltage and ions to clean the air instead of a traditional filter. While they do work, they can cause issues if they produce ozone or you have breathing issues.
You can learn a bit more about the pros, cons, and myths here.
This fan comes with the usual accessories out of the box including an owner's guide and remote control.
It has a 1-year warranty against defects and will push plenty of air around a room. It's our top choice if you have a higher bed and we feel it's one of the better options when it comes to durability as well.
Features
Built-in ionizer
Three speeds
7-hour timer
Blue Plug safety fuse