People who love copper and expect its normal color changes due to oxidation from exposure to natural elements appreciate the Lagostina Martellata Hammered Stainless Steel Copper Cookware Set.
Most consumers admire its "gorgeous" hue and hammered appearance when new, and some also like the copper's "rainbow" hues due to heat and patina caused by weathering.
And, on that note…
Those who want the cookware to retain its original auburn sheen should be willing to polish it regularly.
Or, possibly keep shopping for a different set…
You see, users who either dislike copper's color changing qualities routinely reported they didn't appreciate this set.
Likewise, people who think copper cookware isn't practical because it requires routine care and maintenance may want to steer clear of this or any copper cookware.
Are you ready for the TLC these pots require?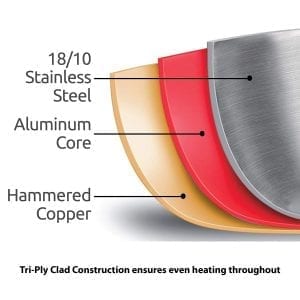 Most people are.
Almost all users agree that the Lagostina Martellata Set is sturdy, easy to clean, and excellent at regulating and distributing temperature consistently.
This set has a stainless-steel interior, and aluminum core, and a copper exterior.
Our team of experts remarked it heats up quickly and evenly.
Here's what we didn't like about these pots:
The stainless steel lids are lighter than the pots and pans themselves. At least one tester wished the lids were more heavy-duty.
Some also prefer glass lids so they can check on what's cooking easily.
Also, we found several reviewers who experienced the copper "disappearing" or "vanishing" and exposing the aluminum core after they washed the cookware by hand.
What could that mean?
Perhaps the layer of copper is thinner than expected.
For an introduction to this collection, watch this descriptive video from the manufacturer, Lagostina.
Features
Includes 8" skillet, 10" skillet, 2-quart saucepan with lid, 3-quart saucepan with lid, 3-quart deep sauté pan with lid, and 6-quart stockpot with lid
Stainless steel interior
Aluminum core
Hammered copper exterior
Smooth handles
Oven safe
Compatible with gas, electric, and ceramic stoves
Made in Italy