This lovely recliner may look familiar if you follow our site. It was featured in our best napping chairs list, but it's also great for those long naps that extend until the sun comes up.
This is a traditional recliner with a rocking feature which allows you to rock away while you wait for the stars to come out. It has a handle on the right side that unleashes the recliner, and you can choose from one of three positions. As the set and back move at the same time, the Niagra Reclina-Rocker gives you a natural feeling in any reclined position.
How's the fabric?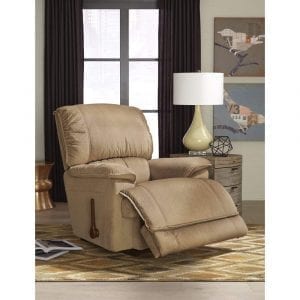 In the older La-Z-Boy chairs, the cushioning and its covering was usually the first to go. Modern chairs hold up better, and this one is no exception. It has detailed stitching and plush pillow back with a waterfall chaise. The armrests are just as comfy as the rest of the chair while the build quality as a whole is top notch.
You can even set the tension on this chair to a degree in case you have ailments that generally make pulling these types of levers back difficult. It's "made in the USA," but some parts are imported from overseas. While that can be a concern at times depending on what's imported, it does come with a limited lifetime warranty.
The older La-Z-Boys became family heirlooms as they tended to get passed around for a few decades before finally ending up on the scrap heap. We're pleased to say the still make excellent recliners, and the Niagra Reclina-Rocka can keep you comfortable throughout the night whether you unintentionally doze off or just prefer chairs on occasion.
On the downside, the price is steep considering there are no real "features" to speak of and it's not a power chair. It is lighter than others however and has a modern style and plenty of cushioning for your backside. The Niagra measures 41"H x 39"D x 41"W, is easy to assemble and comes with a user guide to go along with that lengthy warranty.
Features
Full body support
Adjustable tension
Plush split pillow back