If you're looking for a reliable and functional faucet, Kraus is the way to go. They're a popular and reputable company when you need sinks or related products. Here is what their Kraus Single Lever Pull-Out kitchen faucet has to offer.
This faucet has a sleek and simple look that will fit into any kitchen. The price is extremely affordable, and the installation is very simple. Unfortunately, unlike many faucets out there, this one doesn't come with water supply lines. However, it comes with mounting hardware and an optional deck plate.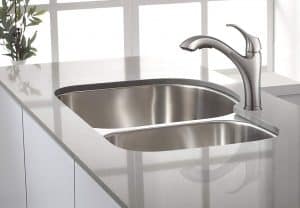 The flexibility of this faucet is very high. Firstly, it can swivel 120 degrees, allowing you to reach every part of your sink easily. Also, it features a smooth retractable hose, so you can clean everything with even greater ease, and the hose retracts automatically once you're done using it.
An additional feature which adds to the flexibility of this product is the option of choosing between the stream and the spray option. You can easily switch between these, but when the water is shut off, the faucet defaults to the stream setting, which might be an annoyance for some users who prefer to use the spray setting.
The single-lever design of this faucet makes it very simple and easy to use. Adjusting both temperature and pressure is easy, and the handle is very responsive.
When it comes to cleaning, the finish on this faucet makes it extremely easy to maintain with minimal effort. Simply wipe it down once in a while, and your sink area will look spotless.
This faucet is also good for you and good for the environment. It's lead-free, so you don't have to worry about health concerns, and it also features a low-flow aerator, which saves water. The technology used in developing this faucet makes sure it doesn't drip, and that it provides smooth operation for a long time.
The only major downside to this faucet is that the spout is made of plastic, which can give it a cheap feel. The ring on the bottom is also plastic. Despite both of them being covered in a film that matches the rest of the faucet, so it's not visually noticeable, it can be a problem if you prefer full-metal parts.
Features:
Dimensions: 11.5 x 10.1 x 10.3 inches
Flow rate: 2.2 GPM
Material: Solid Brass
1-hole installation
Lacquered stainless steel finish
Top-quality components
Aerator
1-lever design
Dual-function Pull-out Sprayer
120-degree swivel
Lead-free
Limited lifetime warranty
Mounting hardware included
Optional deck plate included