This pedal tuner from Korg is a great option for keeping your intonation locked in during on-stage performance and is one of the most affordable options you'll find for a full-sized pedal tuner. Its large LED display is easy to read, even in low light, and it gives you a true bypass so there's no impact on your tone.
Here's the deal: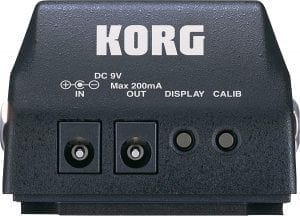 The Pitchblack is designed for gigging musicians.
It fits easily on any pedal rack and can be connected in any position between your pedals without changing the sound of your effects. It offers four different modes for different situations. Mirror mode is the most unique, giving you a better idea of whether your strings are in tune with each other.
In terms of calibration, the Pitchblack lets you adjust the pitch center within five cents sharp or flat of A440. It also has a broad detection range, from E0 all the way up to C8, so it's equally suitable for a guitar or a bass. The die-cast aluminum casing is plenty sturdy, too, making this your most reliable option for an on-stage tuner.
Features:
Rack mount tuner, but not limited to being installed on a rack
3D visual meter
Regular, strobe, and half-strobe meter display modes
Cable Checker alerts you if a cable is bad or shorted out