Korg is another name you'll probably see come up quite a bit as you're looking for digital pianos.
They're known best for their synthesizers, which are some of the most sought after in the industry, but they also offer more traditional digital keyboards, ranging from starter to professional models, and offer the same consistent quality in all their instruments.
The flip side?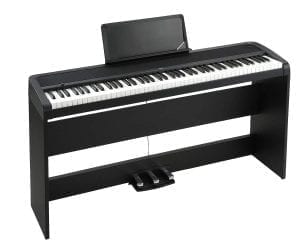 Korg instruments aren't cheap. The B1SP is one of their entry-level models, and it still relatively pricey.
What that extra money gets you is a more responsive and realistic instrument. The hammer action is weighted nicely and feels natural, and you can adjust the dynamic sensitivity to suit your style.
It also comes with a full three-pedal board, a rarity for a pedal at this price.
Here's the catch...
We were a bit disappointed they only included eight voices on this piano, all of which are variants on keyboards (five piano models, two organ models, and a harpsichord).
Korg is known for their authentic sound modeling, so it would have been nice to hear more of their range. The voices that are included do live up to Korg's high reputation, especially the main piano voice, which is rich in the low end and vibrant in the treble.
What's more...
Most companies would not consider this to be an entry-level instrument—both based on the sound quality and the price tag.
If sound quality is your main concern, this piano has it.
In terms of functionality, though, you can get the same features for less elsewhere.
Features:
Keys: 88
Voices: 8
Effects: Reverb, Chorus
Power: AC adapter (included)
Weight: 46 pounds
Outputs: 1/8" headphone/line out
Includes three-pedal board just like an acoustic piano