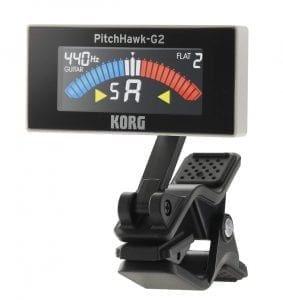 A clip-on tuner is many players' favorite option for quick hands-free intonation checks, both during gigs and in the practice room. The first thing you'll notice about the PitchHawk is it's easy to read display. It's brighter than previous Korg tuner models and uses a color-coded system (red for sharp, blue for flat) so it's easier to track your pitch at a glance.
We found that really useful.
The G2 is built with a slimmer profile than most clip-on tuners, which makes it easier to position securely on a wider range of instrument styles and sizes. Korg has also made improvements to the clip itself so it gets a stronger hold.
Along with guitar and bass modes, the PitchHawk also has settings for drop tunings and capo users. You can save your calibration and tuning settings, too, so you don't have to waste time adjusting the tuner every time you turn it on.
Features:
Color LCD
Slim design
Guitar and bass modes
Flat and capo settings