There's a lot going on behind the scenes with this minimalistic seeming toilet. There are several things you'll need to know, however.
So, what's in this thing?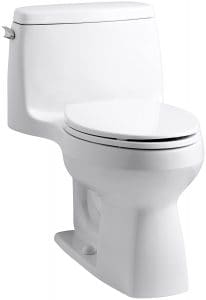 This may look like a normal toilet, but there's a lot to pick apart here.
First, let's look in the tank. This toilet uses a canister flush valve which keeps the bowl from clogging with a more powerful flush.
This flush does not come at the cost of convenience or efficiency, however. The canister valve also reduces noise and water consumption.
Also in the tank, the aquapiston technology puts the water consumed better use. A normal flap style valve wastes a lot of water and reduces flushing power by opening gradually and remaining in the way.
The aquapiston instead opens vertically, allowing all the water used in a flush to enter the bowl at the same time. This hits the bowl contents harder, producing a more powerful yet efficient flush.
In tests, we found this was an extremely high-functioning element.
Sound too complex?
It's not!
You shouldn't have too much trouble if you decide to install this one yourself. It does weight 102 pounds, which is something you'll want to keep in mind before installing.
But you should know...
There are a few things you'll want to consider before deciding on this toilet.
Most toilets have the lever on the right side, since most people are right-handed. This toilet gives left-handed people an option by moving the lever to the other side.
If you're right handed, this may bother you. However, this is something that left-handed people do normally, so you can definitely get used to it.
You'll also want to make sure this toilet can fit in your space. You should always measure before you buy, an that goes double for this product.
It is the biggest toilet on this list.
This is a great thing for comfort, but it may rule out some toilet spaces.
This product does not include a supply valve, which you will need to purchase prior to installation.
And one more thing.
This entire toilet only has a one year warranty. For a product you expect to use for so long, manufacturer defects or malfunctions might not show up until after this period.
Features
Aquapiston flushing technology
Canister valve
High-efficiency flushing