What makes the Kodiak Canvas Flex-Bow 6 person Canvas Tent so much better than other tents of its type is that it's simply made for extended periods of outdoor living.
The majority of 6 person tents out there aren't very good if you plan on spending a long time in the outdoors. But the Kodiak Canvas Flex-Bow 6 person Canvas Tent is just the right tent for that.
Why it's good…
First of all, there's the structure. It has a steel frame and a very heavy canvas, which means it's more stable than most other 6 person tents.
The inside of the tent is spacious with enough room for people and camping equipment. You can feel cozy and comfortable even during extended periods of rain.
The tent also has an awning – a fantastic addition to make you comfortable when you're outside the tent, and to protect you from the sun and rain equally.
The perks of canvas.
Because of the canvas walls, the air inside the tent will never be stuffy. This is where canvas excels at.
The walls let out moisture and allow the tent to "breathe".  Because of this, there's practically no condensation.
The floor and walls of the Kodiak Canvas Flex-Bow 6 person Canvas Tent repel water very well, even during rain showers.
What's the most prominent feature of this tent?
It can be used in all kinds of weather.
A minor issue…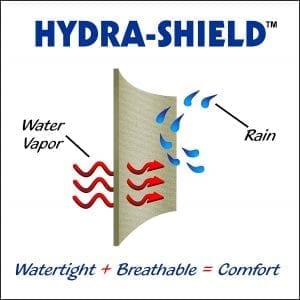 However, there's one small issue here.
The Kodiak Canvas Flex-Bow 6 person Canvas Tent has two doors: front and rear.
Since the walls are positioned at a slant, some water might enter the tent during rain, but only if you use the rear door.
If you use the front door, where the awning is, you won't have any problems and the tent will remain dry.
It's also very sturdy, which means you won't have to worry about wear and tear. It's much more reliable than other 6 person tents.
The set-up takes a bit of time.
The trickiest part with handling the Kodiak Canvas Flex-Bow 6 person Canvas Tent is the actual set-up. The tent is definitely heavy, and harder to set up than your average 6 person tent.
But this doesn't mean it's impossible--just a bit more time-consuming.
Nevertheless, with a bit of practice, two people can pitch the tent like a breeze.
Many users of the Kodiak Canvas Flex-Bow 6 person Canvas Tent claim they managed to set it up alone, so it's definitely possible to go that way as well.
And then, there's the weight…
This tent weighs 72 pounds (32.5 kg).
There is no way to pack this tent inside your backpack.
And, even if you could, carrying it would be an ordeal.
Make sure your camping site is accessible enough to get close to it in your car, due to the weight of the tent.
The verdict?
If you're looking for light camping, this isn't the best solution.
However, if you want to camp like an outdoor professional, and enjoy all the assets of staying in a top-notch tent, the Kodiak Canvas Flex-Bow 6 person Canvas Tent is definitely the way to go.
Not to mention, Kodiak offers a lifetime warranty on their products.
Take note though: the warranty does not include normal wear and tear, natural hazards, abuse or alterations or modifications of any kind. However, if your product is defective, you can replace it free of charge.
Features
fabric type: canvas
watertight and breathable
2 large D-style doors
4 large windows
2 funnel-flow vents
steel poles
awning