If you're on a budget and want to find the best value, Kliq's UberTuner gives you accurate, easy operation for less than twenty bucks. It doesn't feel cheap, either, with a strong, sturdy clip that's attached securely to the adjustable display.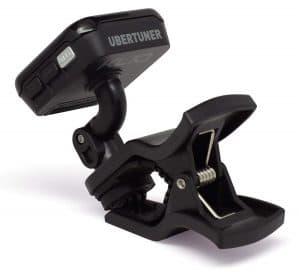 The UberTuner uses a black background on the display to enhance the contrast and makes it easier to read, even from a slight distance. There are three different settings for the angle of the display, letting you tweak it to suit your instrument and playing position.
What's more is...
The performance is impressive, too, especially for the price. The response time is even faster than with some costlier tuners, and it's accurate within 1 cent—not as tight as some of the higher-end tuners on this list, but great for the price. You even get five different tuning modes, with an all-purpose chromatic option as well as settings for guitar, bass, ukulele, or violin.
Features:
Tuning modes for guitar, violin, bass, and chromatic
Full color display
Allows use with capo
Transposition settings make it compatible with brass and woodwind instruments