The KitchenAid KCO273SS 12" Convection Bake Digital Countertop Oven provides plenty of cooking options for your kitchen in a roomy design. It incorporates even heat technology which is engineered to provide consistent cooking throughout even meal option you heat in it.
With your health in mind...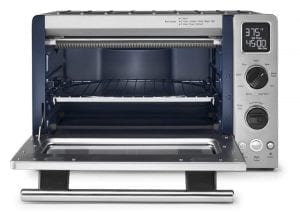 You'll appreciate that this countertop oven is PTFE and PFOA-free as it uses a CermaShield coating on the inside that is non-stick. This allows for easy clean up along with the non-stick drip tray.
You can fit two 12 in. pizzas inside this countertop oven as well as two Cornish hens. It offers plenty of space in its large interior cavity but does take up some amount of space on your countertop.
Th construction of the KitchenAid KCO273SS 12" Convection Bake Digital Countertop Oven is built to last featuring scratch resistance and a stainless-steel construction. It is backed by a one-year hassle-free warranty, giving you plenty of coverage with its purchase.
Other highlights include:
There are nine programmable settings that include bake, warm, broil, and toast. A 120-minute timer provides plenty of cooking time and included features such as a non-stick multipurpose pan, broiling rack and cooling rack – all nice additions.
Features:
Even heat technology
Bake, warm, broil and toast settings
Nine programmable features
120-minute timer
Large oven cavity
Non-stick coating
Non-stick drip tray
12 in. non-stick multipurpose pan
12 in. broiling rack
Cooling rack