The diamond series blades are specifically designed by Killerspin for the world's Top Players.If you consider yourself at the top of the leaderboard, this could be the paddle for you. It's ITTF competition approved and is an advanced competition racket designed for fast players. It arrives pre-assembled which makes things easier on you, and includes a 3.88'' straight handle that's comfortable in the hand.
However, it's expensive.
With the average price at around $250, you're paying a lot more than any other paddles we have reviewed. And considering there just over 10 customer reviews on Amazon, there doesn't seem to be a lot of evidence that would convince you to pay so much.
When it comes to the paddle itself: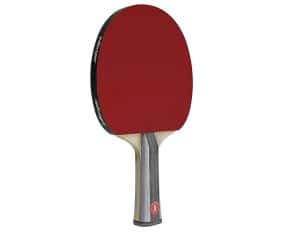 The reason it's so expensive is due to the 2 layers of titanium carbon that are mingled with five layers of plywood for the paddle blade. This mixture of highly engineered materials ensures you get the best power and control available and provide an extra kick for the player who likes to add a little aggression to their game.
This is by far the most expensive paddle on our list and the speed is at a higher level than any others we've included. This makes it ideal for competitive players who prefer to focus on the speed of the ball, along with the spin and control.
Aside from the speed being at a premium though, there doesn't seem to be a whole lot of evidence online that it is so much better than the others (aside from the name calling it a Diamond and Premium racket). The spin is much the same as the cheaper styles, as is the control. The reviews that are available on Amazon (13 of them) are positive – but is it worth the $240 - $300? Well generally, that's not necessarily true, but for a person suited to spin shots and speed, it may be the right choice.
Main Features
Built for a very fast, competitive match.
Ratings of 120 in speed a Control of 82 and 94 in speed. Measurements of 9/16" thick and Head dimensions of 6 x 6 1/4".
Fortissimo rubbers with a high resistance to tension.
5 layers of plywood and 2 layers of Titanium Carbon.