The Killerspin Kido is an ideal paddle for tournament and high-end ping pong players.It offers a good combination of spin, speed, and control. It's part of the RTG collection specifically designed for professional ping-pong players, or for anyone who wants to enhance their abilities and perhaps enter the competition circuit.
With 7-ply layers, the weight takes a little getting used to if you generally use lighter rackets, but once you recognize the power you have in your control, your game will improve immensely.
It's ITTF approved and includes the Nitrx 4Z rubbers that Killerspin is renowned for. The rubbers are extremely innovative and include a hybrid top-sheet made of an elastic compound – giving a great amount of rebound. This is mixed with a soft compound that works to "grab" the ball and create a better spin for the player.
On top of that: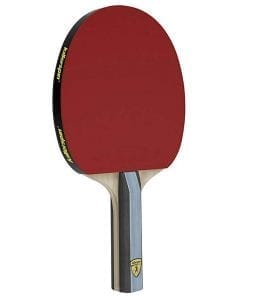 With equal amounts of synthetic and natural rubber, you get a spring effect which makes a pop sound when your ball hits the paddle.  These rubbers are specially formulated to give you better speed, spin, and control all in one.
This type of paddle is already pre-assembled when it arrives at your door, so you can get straight out and play. It has a 3.88'' flared handle that's comfortable in the hand and easy to get used to if you have generally only used straight handles in the past.
One of the biggest things we noticed:
this paddle is a lot heavier than some of the others we tested.
There are not many reviews on Amazon for this racket, so it's hard to make a fully informed choice based on what other people are saying, but the good news is that it comes with a 30-day warranty. If there are any problems, you have some leeway to return it to the manufacturer.
Our experts decided this was probably the least exciting out of the paddles we have included, but considering there are hundreds of different brand paddles available – number 9 is still great odds.
Main features
Ping Pong Racket built for a dynamic match.
Nitrx 4Z rubbers approved by the ITTF for tournaments and championships.
7 - plywood
High-quality specifications of 90 in speed, a control of 85 and a spin of 90.