The combo includes a JET Back table tennis racket plus a black sleeve table tennis racket case.It's an ideal buy for the player who likes to have ultimate control and precision.
The paddle itself is high-quality and is specifically engineered to give you better control and precision. It's made of two black Nitrx-4Z rubbers that are high tension and gives it a bit of an edge. The black handle has distinct yellow lines and it's assembled with five layers of plywood. The flare style handle makes it easier for some to use, giving better control.
The JET Black paddle is specifically designed for those players that like to be in full control.It offers spectacular spin levels thanks to the rubber.
Compared with the others in the JET range: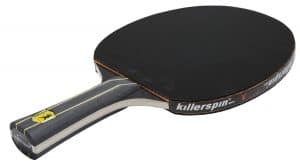 The wood blade on this make is tougher and more resilient.
It comes with a sleeve, which is extremely useful if you're heading out on the road. It will protect your paddle and make it easier for transport. The case is super soft, lightweight, and looks stylish. It can also fit two rackets and fourballs so you can really travel prepared.
We really like the paddle case.
It's ideal for professional players to store and carry their paddles and balls when they travel to tournaments.
You can get the combo for under $50 on Amazon and we highly recommend it for someone who prefers to play a nice calm game, rather than someone who expects to smash their opponent to smithereens.
Main Features
Stylish black design.
High - Quality Table Tennis Paddle designed for precision and control.
Extra-light blade with 5 plies, covered by 2 rubbers of the nitrx 4Z type.
Ratings of 68 in speed, a spin of 82 and a qualitative control of 90.