The Killerspin JET800 comes with ITTF approved Nitrx 2.0 mm rubbers that are red on one side and black on the other – creating an amazing combination of power for the serious player. The JET800 Speed N1 is stylish, if that matters, and comes with a burnt wood handle and high-class packaging.
In fact...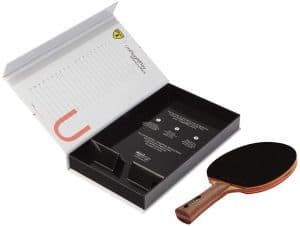 We even thought it would make a nice gift for someone.
The Jet800 is known for the high speed is creates which is ideal for anyone wanting to up their game. There are a number of good features on this paddle, from the 2mm rubbers that have been ITTF approved, to the wooden side tape that gives you a catapult effect.
It has two layers of carbon composite material infused into a 7-layer wood blade. This allows you to play more aggressively while remaining in full control. It's made with Nitrx-4Z premium rubber that's high tension and ITTF approved. It provides higher levels of both spin and power, so it's a great racket for anyone looking to up their game on the professional market.
The sides of the blade have tape which helps to absorb the amount of energy the paddle has, but also allows for a catapult effect when the ball hits the edges of the bat.
Not to mention:
The side tape also helps protect your paddle from any damage.
It's probably a good idea to get a nice Killerspin case with it as well to help keep it protected.
Not only is it good quality for the money, but it's something you can keep for years to come to compare your game and keep track of the people you meet out on the road while playing professionally. This is thanks to the Memory Book where you can keep a record of your scores, get your favorite player's signatures, or get your friends and opponents to write personalized messages so you can look back on competitions for years to come.
It also comes with a 30-day warranty for any manufacturer's issues (not through wear and tear).
Main Features 
Performance ratings of 90 in spin, a speed of 95 and a control of 80.
Nitrx rubber of 2mm, approved by the ITTF for tournament participation.
High-Quality build of a blade with 7 plies. Combined with the 2 carbon layers and a wooden side tape, this racket provides great power and energy absorption.
Choose from a red or black finish.