The Killerspin JET400 is the fourth paddle in the JET series and although Killerspin is pretty new on the table tennis market, they generally stick to recreational type paddles. With the new JET series though, the paddles have all been ITTF approved meaning Killerspin can easily expand into the professional scene along with the likes of the JET800.
The biggest difference between?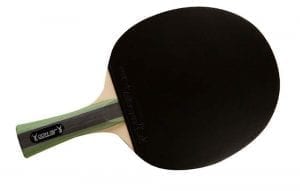 Speed. This one isn't quite as fast as the JET800.
The paddle has two 1.8mm rubbers. And like the JET800, it uses Nitrx-4Z premium rubber that is high tension and ITTF approved. This type of rubber is great for better spin and power, which is why a lot of professional players are choosing to use Killerspin paddles.
If you don't like playing with light paddles, this one could be the paddle for you as it's a bit heavier than many other brands. And if you like to hit the ball closer to the actual table itself, it's a good paddle to choose. However, if you favor a lighter tool in your hand, this is not the product for you, and a powerful shot will need more effort from the player.
The blade is made from 5-layered plywood.
Sound cheap?
Yes, but it does the job. It's a bit rigid, but it works well for forehand drives in particular. It's a great paddle for anyone starting out in ping pong or those who play competitively at a lower level. Plus, it's a bit cheaper than the JET800.
Main Features
Set of 2, highly qualitative table tennis rackets.
Built with a handle that is very flexible.
Designed for a transitional to advanced player.
Paddle rubber approved by the ITTF for tournament participation.
Built with aggressive spin shots in mind.