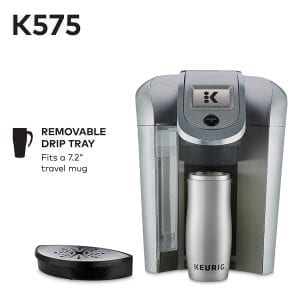 The Keurig K575 is a coffee maker with many different options and features to choose from. So if you want quality and options, this device is the way to go.
The K575 can brew five different pod sizes, and it features a huge water reservoir. This means you can brew a lot of coffee and still won't have to refill the water often. And whichever size you choose, the coffee will be brewed in only one minute!
This device also has a strength control feature, and there are five temperature settings, so you can control how strong and how hot your coffee is. Controlling the device is simple with the massive touchscreen.
The K575 also lets you use a programmable timer to turn the device on or off whenever you want. It also gives you hot water on demand, and it's very easy to clean and maintain.
However:
Our testing did bring a few downsides to light regarding the K575. Namely, the exterior construction is plastic, and some users report it gives the device a cheap feel. Also, the hottest temperature setting is not hot enough, and some people say they have to put their coffee in the microwave to heat it up after brewing. So if you want your coffee scalding hot, this might not be the Keurig for you.
If you've decided to try out a Keurig, and want a stylish and convenient method of storing your K-Cups, this K-Cup Carousel is a great choice. It can hold up to 35 K-Cups and can rotate 360 degrees. It has a lovely black powder-coat finish and is a great addition to any kitchen counter.
Features:
Dimensions: 13.2 x 10.5 x 13.3 inches
Brews 5 K-Cup pod sizes (4, 6, 8, 10, 12 oz.)
Brews a Carafe (22, 26, 30 oz.)
1 minute brewing time
Removable 80 oz. water reservoir
5 temperature settings
Strength control feature
Big touch screen
Preset brew timer
Various nightlight colors
Includes 6 K-Cup Pods
Includes a water filter handle and 2 filters