If you're looking for a simple coffee maker, this one won't disappoint. The Keurig K55 is a classic model at a budget price. It doesn't come with a lot of bells and whistles, but it fulfills its purpose nicely.
One of the best features of this model is its huge water reservoir. It can hold 48 ounces of water. So if you're tired of having to pour water in before making your coffee, this reservoir lets you make up to eight cups without having to refill it.
Another great feature of the K55 is that you can use it to brew three different K-Cup pod sizes – 6, 8, and 10 ounces. The brewing time for all the sizes is approximately one minute! The package includes four K-Cup pods, a water filter handle, and two water filters.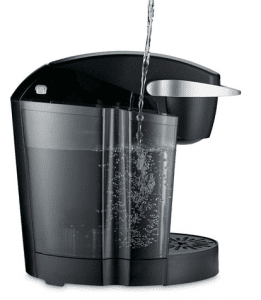 Now get this:
The K55 has a descaling feature, which makes cleaning your Keurig even easier, and it also comes with a programmable auto-off feature, which shuts down your Keurig when you're not using it and saves you energy. The only downside to this model is that it's extremely simple – it doesn't have handy features present in other models, such as a display or preset timers.
If you've never used a Keurig before, or you want a simple way to try out different types of quality coffee, we suggest getting the K-Cup Coffee Lover's Variety Sampler. In this package, you'll get two pods of 20 different varieties of coffee. So sample all the most popular kinds of coffee and find your favorite Keurig flavor!
And if you need a nice place to store your K-Cups, this great K-Cup Carousel is the way to go. It can hold up to 35 K-Cups at once and is extremely easy on the eyes. The base can rotate 360 degrees, and its stylish black powder-coat finish will make it a nice addition to any kitchen.
Features:
Dimensions: 9.8 x 13.3 x 13 inches
Brews 3 K-Cup pod sizes (6, 8, 10 oz.)
Removable 48 oz. water reservoir
1 minute brew time
Descaling feature
Programmable Auto-Off timer
Includes 4 K-Cup Pods
Includes a water filter handle and 2 water filters
Includes Use and Care Guide