If you're looking for a simple and easy way to brew a great cup of coffee, tea, hot cocoa, or some other beverage, this Keurig is a great choice. The K40 is very simple to use, and it's a great choice for older people.
The K40 can brew three different cup sizes – 6, 8, and 10 ounces, and no matter the size you choose, your drink will be ready in under one minute! This machine brews beverages at 195 degrees and features indicator light for ease of use.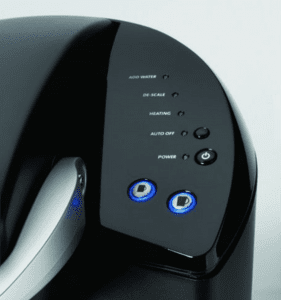 Here's where it gets good:
With a removable 48-ounce reservoir, you won't have to refill this Keurig very often. Unlike some one-cup devices, you can brew as many as eight cups before having to put more water in. Its handy auto on-off feature makes sure you don't spend unnecessary power with this machine.
The only downside to this model is that it's quite large, so make sure to check the dimensions and make sure it fits on your counter before purchasing. Also, many people reported that the first few brews taste like plastic, so we recommend you pull water or white vinegar through the machine a few times until the plastic taste disappears.
Guess what?
This model comes with a K-Cup variety pack, so you can try out various flavors and pick your favorite. If you want even more variety to taste-test, you can also get one of these Coffee Lover's Variety Samplers, which contains 20 different flavors (two cups of each).
And if you want a handy place to store your K-Cups, this K-Cup Carousel is a great choice. With its lovely black finish and elegant design, it can fit on any countertop. It holds up to 35 K-Cups.
Features:
Dimensions: 12.2 x 14.9 x 14.2 inches
Brews 3 K-Cup pod sizes (6, 8, 10 oz.)
Brews a coffee, hot cocoa, tea, iced beverages, and specialty beverages
1 minute brewing time
Removable 48 oz. water reservoir
Brews at 195 degrees
Auto on-off feature
Indicator lights
Includes K-Cup variety pack
Includes a removable drip tray