The Keurig B145 is an office appliance that brews a great cup of coffee, cocoa, tea, and other beverages in under a minute. It's quite a large appliance and is more appropriate for office than home use.
The B145 can brew three different cup sizes (6, 8, and 10 ounces) and has a removable 48-ounce reservoir. This means you can brew as many as eight cups before having to add more water in. The reservoir can easily be removed, cleaned, and filled.
The removable drip tray on this unit lets you fill travel mugs, and the B145 also features an automatic off timer which turns the appliance off after two hours of non-use. It's a simple and easy-to-use machine that does the job without too many bells and whistles.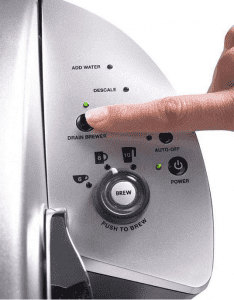 What's the catch?
The only major downside that we found is that this model is quite louder than home models. Our research showed that it's too loud for many people that use it at home, especially in the mornings. On the other hand, it's great for an office setting where noise isn't as big of an issue.
Included in the package is a set of four K-Cup pods, so you can sample the coffee this machine can make. If you want to sample a larger variety of flavors, this Coffee Lover's Variety package is a great deal! It gives you 20 different flavors (two cups each) so you can easily pick your favorite.
And if you want a neat way to store your K-Cups, this K-Cup Carousel is a very handy way of storing up to 35 K-Cups on your counter. With its black finish, it's convenient, as well as stylish!
Features:
Dimensions: 17.5 x 15.5 x 13.5 inches
Brews 3 K-Cup pod sizes (6, 8, 10 oz.)
Removable 48 oz. water reservoir
1 minute brew time
Removable drip tray
Auto-Off timer
Includes 4 K-Cup Pods