Air compressors are generally bulky by nature, and even the most portable models can still take up a considerable amount of trunk space. If you're in the market for something a wee bit more compact, Kensun has the answer with the Swift Performance compressor.
We're going to cut to the chase with this one.
The company dropped the ball in the design department.
The Kensun Swift is far from sleek with a basic plastic shell, but certainly portable and extremely easy to use. It's not one you'll want to bang around, but it should hold up well under normal duress.
Have you ever had to dig for quarters to use those gas station air machines that rarely work and cut off prematurely?
Well, the days of searching for an air machine are long gone if you have the Kensun Swift. The unit can run off a regular 110V plug from inside your home.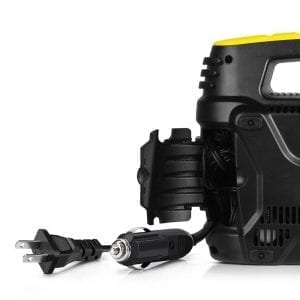 But that's not even the best part.
It also works with any 12V car outlet which gives you air on the go.
The Swift has an old-school analog pressure gauge with an accuracy of 35 PSI +/-1PSI. It's small but capable considering you can squeeze 35-minutes out of it at 35 PSI as well.
You won't be able to blow out gutters with this budget-friendly compressor, but it's quicker than a hand pump and will run circles around similar portable solutions.
Other highlights of this compressor include a screw-on 31-inch air hose and three nozzles that can handle anything from a beach ball to inflatable pools.
The DC cable is over 10-feet long, but the AC cable is a little short for our liking at 3.3-feet.
The Kensun Swift portable compressor comes with a carrying case and a 2-year warranty. While that information isn't out in with the listing, it's the first thing mentioned in their user manual.
If you prefer a different hose, we recommend giving the Slime 20332 hose adapter a look.
Features
AC/DC power
Built-in pressure gauge
Carrying case
0.64 CFM DC / 0.71 CFM AC