Attention multitaskers: introducing the Kensington!
This one was made just for you.
Although it was specifically designed for business travelers, the Kensington makes a great option for any on-the-go multitasker. It has two USB ports and an AC outlet, so you can charge three devices all at once.
Plus, it's all about the safety.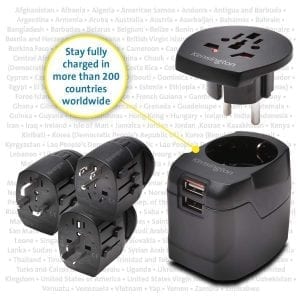 Three prongs make for extra security when you're plugging it in, and it has an internal fuse just in case there's an unexpected power surge.
So rest easy: your precious laptop is safe and sound.
(But if you're the type of person who likes to be extra prepared for every emergency, you can always invest in a separate surge protector, too.)
Like its fellows on this list, the Kensington is a universal adapter. It covers over 200 different countries around the world — which we found pretty impressive!
Customers praised the Kensington travel adapter for its versatility and convenience.
We especially loved the fact it's all one piece, so you don't need to worry about leaving any extra parts in your hotel.
There's just one thing we're not so crazy about...
Although the Kensington also has a three-pronged AC outlet, a lot of customers found it was actually pretty difficult to plug in anything with three prongs.
The hole where that third grounding prong should go is a just a bit too small for most plugs, which is a definite bummer.
All in all, though, we think the Kensington is ultimately a dependable choice.
It comes with a two-year guarantee, with more information in the user manual.
Dimensions: 2.8 x 2.3 x 2.6 inches
Weight: 5.9 ounces
Features:
An internal fuse adds extra protection in the event of a power surge
Two USB ports for extra charging capability
Three prongs provide more security when plugging into outlets