Of all the tents in the Outback series, this is the biggest one (118 x 76 x 106 in).
It's a 3-season tent, so - if you want to use it in colder weather, it definitely won't be of good use to you.
It's freestanding, which means it's suitable for any kind of terrain.
It has a 2-layer design…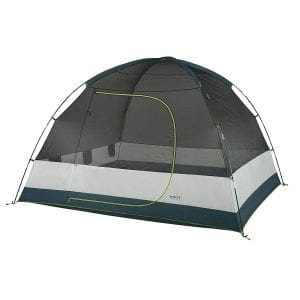 There is the inner tent and the rainfly that comes on top of it.
It's great for families and groups of friends, because it offers enough room for a group of six people.
The set-up is very easy…
Because the tent is color-coded to simplify the whole process for you. You won't have to figure things out, as everything's laid out.
When it comes to the design, the Kelty Outback Tent Grey is very simple, but offers a lot in return.
The set-up is fairly easy, because there are only two poles. The tent doesn't have to be anchored to the ground; all you have to do is put the poles in the grommets.
However…
For additional safety and stability, it's smart to further attach the tent to the ground.
Although it's ideal if 4-5 people use it, the Kelty Outback Tent Grey definitely has enough room for 6 people to feel cozy and comfortable.
There is only one, D-style door, but it's big.
Also, the vestibule is quite large, too. It can be used for storing things and camping equipment.
The rainfly is full-coverage, meaning it goes all the way to the ground. However, there are no vents on the rainfly, and this can be a bit of a problem.
The height is a great plus…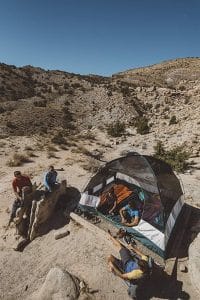 With its ceiling at 76 in. (193 cm), Kelty Outback Tent Grey is a really tall tent, offering so much standing room. Also, there are six wall pockets, which can be very useful for storing things.
The tent is waterproof, including the rainfly and the floor, which is excellent, because you never know what weather conditions you might encounter, even during summer.
The poles are made of fiberglass.
Remember, fiberglass is less durable than aluminum--this can be problematic if you want the best material for the poles.
A major drawback is that the tent doesn't come with its footprint, but it's available as an add-on feature. The majority of users say it makes an excellent addition to Kelty Outback Tent Grey, and that it's a great footprint. If you don't want to go with a tarp, this feature might come in handy.
The tent also comes with a lifetime of product warranty. Just make sure you keep your proof of purchase as Kelty reserves the right to require it in order to obtain service.
Features
fabric material: mesh and polyester
fiberglass poles
freestanding
fairly lightweight
simple set-up (color-coding)
large D-style door (easy access)
full-coverage rainfly
internal storage pockets