If you are looking to add a high gear ratio baitcaster--or just know what you are going to be fishing--this baitcaster is going to beat out just about any other.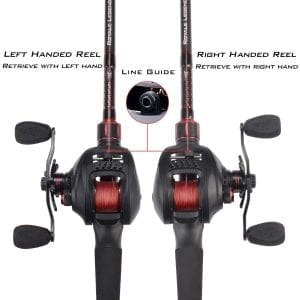 It's advertised as the fastest reel on the market.
But remember that you'll be a bit cornered into using baits that work well with a high gear ratio.
This may also be a good option if you are very, very experienced--but if that's you, you probably already knew that. A lot of pros will use casters in the 7.1 to 9.1 range because if you are a highly trained fisherman, It's easier to slow down a fast retrieve than It's to speed up a slow one.
But...
If you didn't come here specifically looking for a caster with an extremely high ratio, you may want to pick a reel with a lower ratio.
We would have preferred to see this product's brass gears made of stainless steel.
This caster would function very well with a braided line like this one.
KastKing has a one year warranty on reels.
Features
12 bearings
Magnetic brake system
Drilled aluminum spool