K-Swiss may not be the first name to come to mind when you're looking for a solid set of tennis shoes made for cutting across the court. It would be a mistake to overlook the men's Hypercourt Express however as they are built for any court and will outlive other shoes at this range.
While you can play tennis casually without breaking a sweat, the sport itself can wreak havoc on your footwear. Soles can wear out quickly, and the sides can give away if the design is poor or the company uses odd materials. K-Swiss combats this by using a seamless heat welding technique which keeps things clean while adding support.
As for the traction, that comes from the sole which has herringbone tread and is made from Aösta II, a high-density rubber. There is a molded EVA insole which an ample amount of cushioning and a nonslip heel lining. The tongue and collar are also heavily padded on the Hypercourt Express, and the overall is what we would refer to as an acquired taste.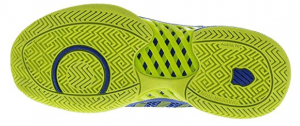 These aren't bad looking shoes by any means, and more than just a set of Adidas with a few extra stripes. The upper is mesh like most athletic shoes, but the company carried that herringbone across the sides and tip of the toe box as well. It's different, and we dig the contrasting colors, but it will turn folks off that are looking for a more traditional shoe with a little less pizazz.
On the flipside…
If you do dig shoes that are going to stand out in a crowd, you won't do much better than these. The color options are outstanding as you can choose anything from blue and neon citron to dark shadow and blazing orange. There truly is something for everyone including calmer hues like white, navy and glacier gray. Color options depend on your size as these run from a 7 to a 12, but we could not dig up any warranty information on this particular shoe, so you're limited to the usual 30-day return window.
Features
Seamfree bonded layers
High-density Aösta II outsole
Die-cut sock liner
DragGuard toe