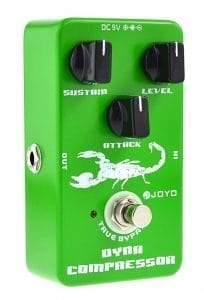 Joyo has made a name for themselves creating affordable versions of the popular effects every guitar player needs on his rig. The JF-10 is their version of a dynamic compressor, and while it might not be the best option for every player, the build and sound you get for the price make it an impressive value.
Now:
The sound of this compression may be a bit bright for some players. It has a massive output, making it a great choice if you want to give your sound an overall boost, though the compression itself isn't as dramatic.
The JF-10 won't give you extreme squeezed compression, but it will enhance your tone reliably and affordably. It works well with a wide range of equipment and other effects, too, making it an excellent go-to choice for gigging professionals.
Specifications:
Power: 9V DC (not included) or battery (included)
Weight: 10.2 ounces
Dimensions: 4.7"D X 2.5"W X 1.5"H
Controls: Sustain, Level, Attack