Joyo has made their name as a company by putting out affordable clones of classic and popular effects. This dual-channel delay pedal isn't the cheapest option on the list, but it's definitely on the cheaper end of the spectrum.
Considering the features and functions that come included, it's definitely in keeping with Joyo's reputation for value.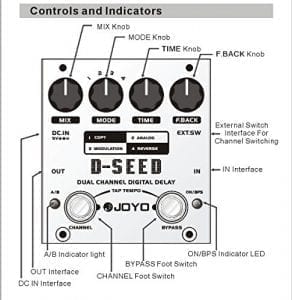 The two-channel design of this pedal is definitely the feature that makes it stand out the most. It's especially helpful that each of the channels has its own independent settings options, letting you fine-tune your sound to a greater degree than most effect pedals allow.
There are also overall controls for changing the mode, as well as the standard options for adjusting the mix and feedback.
While there's a lot to love about the Joyo D-SEED, our favorite feature is the tap tempo mode.
This lets you choose the amount of delay and extends the potential delay time to 6,000ms, a degree of control that many delay pedals don't give you.
The only complaint we have about this pedal is that it's not the easiest to use.
The settings can be tricky to dial in, especially when you're first learning how to use it. Setting the tap tempo mode also isn't especially intuitive, and it's not the best option if you want to change your settings quickly.
Nevertheless...
It's the most comprehensive delay pedal you'll find in the price point, and that makes it well worth your consideration if your budget is a factor in your decision.
Features:
Dimensions: 4.1" X 1.8" X 4"
Delay modes: Copy, Analog, Reverse, Modulation
Delay: 17-1,000ms (up to 6,000ms in Tap Tempo mode)
Controls: Mix, Mode, Time, Feedback
Tap tempo function
Independent settings for both channels