Finally, a table top that isn't blue. This JOOLA ping pong table is not only high quality, but it's also eye-catching. And that's mostly due to the added features, such as the appealing charcoal color, the corner ball holders, and the two magnetic abacus scorers.
This table is regulation-size and tournament quality. It has a 5/8-inch medium density fiberboard (MDF) top, along with a multi-layered painted surface for more reliable bounce. And the white striping around the edges is silk screened directly onto the surface of the table.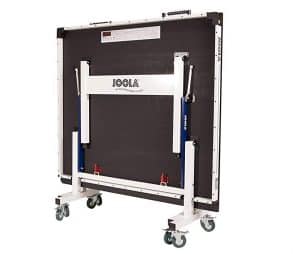 The tube apron is 1.5-inches in diameter, and contributes to an even bounce across the entire surface.
As nice as it is to look at, it's equally easy to set up. It features a no-hassle set-up, in part because it already comes 95% preassembled, which is pretty standard with this price-range of JOOLA tables. Simply attach the legs, and work in a total of eight bolts, and voila … which is French for ta-da!
This table comes with a tournament-grade net that's also super-easy to set up. Its clamp design attaches easily in just seconds. And, of course, there are tension adjusters that do exactly what their name suggests. Building the tension is up to you and whoever you're playing against.
The powder-coated 1.5-inch thick steel legs contribute to the extra sturdiness of this table. And the rubber leg levelers ensure that play remains level and floors stay scratch-free.
This table comes in two separate halves, which means (you guessed it) you can practice 24/7 in playback mode. After all, practice makes perfect. It also means the two halves can be used as multi-functional tables on their own. And those four corner ball holders hold three regulation-size ping pong balls each, which will keep you playing longer and chasing less.
The three-inch locking caster wheels makes moving the table easy and smooth. Locking means it remains stable when playing and safe when storing. And storing is a breeze, as it nests together into a nice, compact package.
The safety latch on the underside of the table also helps keep things secure, because some surprises aren't good. Like going out to your garage and finding your 160-pound ping pong table atop your brand-new convertible.
Specifications at a glance
Product Dimensions: 108" x 60" x 30"; 155 pounds
5/8-inch (15 mm) charcoal table top
Sturdy 1.5 inch steel legs
1.5-inch tube aprons
3-inch locking caster wheels
Features at a glance
Thick MDF, multi-layer, painted-surface table top
Two folding halves for playback mode and storage
Tournament grade post and net
Attractive and sleek charcoal color
4 corner ball holders and 2 abacus scorers
Comes 95% pre-assembled, can be put together in 15 minutes