This JOOLA NOVA DX is a slight upgrade over the other JOOLA outdoor table we reviewed. But just like table tennis is a game of inches, so too are the differences between tables. In other words, the differences are subtle. But to a seasoned pro, maybe more noticeable than you might think.
This indoor/outdoor table is competition-grade and regulation-size. The top is made of a durable 6mm thick aluminum plastic composite surface, which will prevent warping and chipping in the harshest environments. And, of course, because it's JOOLA, it's the official brand of the U.S. Open, U.S. National Championships, and USATT approved. Which may have you asking yourself, am I worthy? And the answer is, most definitely.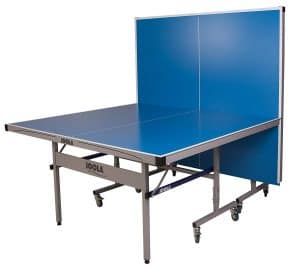 The table's 30mm x 30mm undercarriage is rust-resistant and powder-coated. The heavy-duty 3-inch caster wheels are sturdy and easily roll over uneven terrain, whether the table is whole, or in two pieces for storing. And the adjustable leg-levelers will ensure a level playing surface on nearly all surfaces.
This JOOLA table comes with a tournament-grade, matching net set with a convenient screw-clamp design. It's weather-proof, and the net-tensioning system allows for easy and quick adjustments. In fact, it can be assembled in seconds.
The table is actually two halves that make storing a cinch. Each half includes locking devices for more safety and stability. And the four wheels on each half make moving easy as well.
If you enjoy playback mode (and who doesn't?) you'll love how simple it is to unfold one half. And the nested design means you can squeeze the table into tight spots when not using it.
Each half contains a four-wheel trolley system and automatic tilting locks, adding even more safety precautions. And when you're ready for one-on-one, or two-on-two play, it takes just a few seconds to unlock and fold back out.
This table is maintenance-free and perfect for year-round use in any climate. And the bounce remains consistent after extended play over a number of years. If you're looking to play like a champion, and why wouldn't you be, you may want to consider the JOOLA NOVA DX. And how cool is that name?!
Specifications at a glance
Playing dimensions: 108" x 60" x 30"
30mm x 30mm rust-resistant, powder-coated undercarriage
Durable 6mm thick aluminum plastic composite surface
Heavy-duty 3-inch wheels
Two separate 4-wheel trolley systems
Features at a glance
Comes with a weatherproof net and post set
Caster wheels allow for easy mobility
Two-piece design is versatile and allows for quick and easy storage
Automatic anti-tilt locking devices for added safety
Adjustable leg levelers for use on uneven terrain
Comes 95% preassembled, can be put together in 15 minutes
Weatherproof tabletop is resistant to warping and chipping