If you're looking for a durable table that won't put a paddle-sized dent in your wallet, this JOOLA ping pong table should easily make your short list.
This competition-grade table combines tournament quality with at-home convenience. This strictly-indoor table is regulation size at 9' x 5'. It's USATT (United States of America Table Tennis) approved. And if that's not enough, JOOLA is the official brand of the U.S. Open and the U.S. National Championships. Imagine all the bragging you can do around your neighborhood.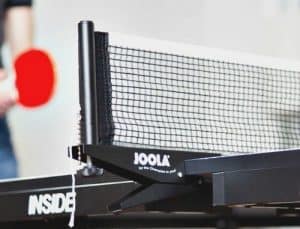 The set-up is quick and easy, and about as pain-free as it gets, as it comes 95% preassembled. You should be able to manage it in under 30 minutes and maybe in as little as 10. Attach the legs and the tournament-grade, clamp-design net, and you'll be paddling your way to fun before you know it.
The playing surface is 5/8" thick, and made of high-density MDF materials. You'll always enjoy a consistent bounce thanks to its multi-layer printed surface. The color is the traditional dark blue. And the white striping is silk screened right onto the table.
This table folds in half, thanks to two separate, four-wheel trolley systems that allow for nesting. It's super compact, and stores easily as a result. And the locking caster wheels keep the table safe and secure when storing, or stable when playing.
Those of you who are loners or only children will enjoy the playback mode. Simply keep one half of the table in the vertical position, and practice for as long as you like.
The undercarriage on this JOOLA table is as sturdy as they come, with its 1.5-inch, black powder-coated steel legs. And the rubber leg levelers will keep the table top level, and the floor underneath scratch-free.
Specifications at a glance
Regulation size (108" L x 60" W x 30" H)
1.5" tube aprons for even bounce
1.5" diameter sturdy steel legs
3" locking caster wheels
5/8" medium density fiberboard tabletop
2 separate 4-wheel trolley systems for mobility
Features at a glance
Separate table halves for solo play and easy storage
Sturdy undercarriage for safety and durability
Clamp-style net with tension adjustments