If you still want to go manual but aren't ready for something like the HAYAUCHI 390, Jameson may have just the thing for you. It's the LS-Series Landscaper Pole Saw, which comes with two extensions and a razor-sharp 16-inch blade.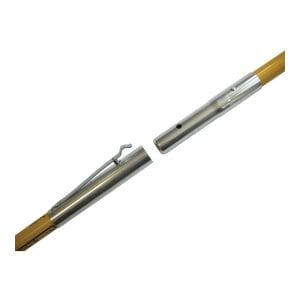 The Jameson pole saw comes in three sections with a base pole, extension and another pole with a fixed blade on the end. You can switch blades out as need, however, but for the most part, this is a very low-tech saw. That's not a bad thing as it helps keep the price down, and the consumers we spoke with had no issue with its durability. Those poles are all made of fiberglass with hollow cores, but a wall thickness of 0.10 inches.
What's the reach?
Jameson designed this extendable pole saw to accommodate consumers that need something with a wide range of height. You can use the "head pole" by itself which measures 6 feet or add the 6-foot base pole for those branches a little higher up.
As you might suspect, the extension is the same length as the other poles, so you'll get a total of 18 feet when it's fully assembled. The ferrules on said poles allow you to use them in any order or even add on another extension if you can handle the height. Replacement parts are a little pricey although readily available.
The blade on the LS-6PKG-6 is 16 inches with a Tri-cut design which gives you quick and clean cuts. You can swap it out for a blade with a hook on end, but this one should get the job done for most folks and is very sharp. There are no other specifications or features to speak of aside from the weight which is around 9 pounds.
We consider this Jameson pole saw to be a budget-friendly option, especially if you're looking for something that doesn't use electricity or gas. It is a little basic compared to other models at this price point, but the build quality is solid, and it comes with a 1-year warranty out of the box.
Features
16-inch Tri-cut blade
Three sections
1-year warranty