While it's called a 'J-Shaped' body pillow, this offering is more like a lower-case 'g' shaped pillow. Designed for pregnancy, this body pillow allows overall support from the back, to neck, hips, and baby bump.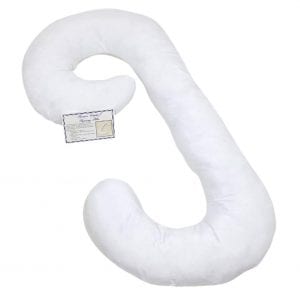 The most immediately noticeable feature of this pillow on our first inspection was the zipped Sherpa cover material, which provided a nice, soft external feel upon testing. The polyester pillow internally can be quite firm and harder than others, the Sherpa cover certainly softened the blow.
The shape, while not a conventional J shape, wraps around you providing a very snug and comfortable sleep. Many users liken it to a bit of a 'nest' feel and provides great overall support for your back and baby bump during pregnancy.
The pillow is machine washable, which is a big plus considering many can only be washed by hand. There is also a money back guarantee, another plus and a big show of confidence from the manufacturers. From what we've seen, however, you'll likely not need to take them up on their offer.
Specifications
6 pounds
60 x 27 x 7 inches
Unique shaped 'J' shape pillow
Polyester Construction
Sherpa Zipped Cover
Machine washable