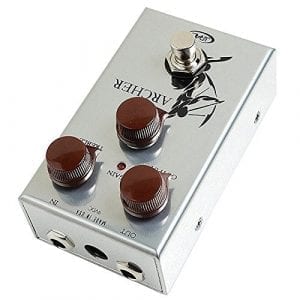 If you're looking for a Klon clone, J. Rockett Audio is arguably the most authentic. They manufactured the original pedals, giving them intimately familiar with the inner workings of that classic pedal. Short of dropping a few grand on a vintage Klon Centaur, the Archer is the closest thing you'll find to that sound.
This pedal has our favorite clean boost on the list. You'll want to be gentle with the output knob because it can get crazy loud pretty fast. The gain control is smooth, giving you the whole spectrum from clean tone to full crunch.
Sound aside, the Archer is also cleverly designed. It's built so you can change the battery without taking it off your pedal board, and the top-mounted jacks let you connect it with less cabling—little details that a gigging guitarist can appreciate.
Features:
Controls: Gain, output, treble
Dimensions: 7" X 3" X 5"
Weight: 1.25 pounds
Power: 9V battery or AC adapter