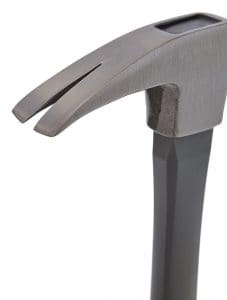 IRWIN Tools is another manufacturer consumers turn to when they want high-quality tools that won't break the bank. Their General Purpose Fiberglass Claw Hammer certainly fits that bill, and while it isn't fancy, it performs as advertised.
The highlight of this hammer is the price although it has a sturdy forged steel head. It's not something you'd want to frame houses with for obvious reasons but is perfect for finish work thanks to the smooth face. Regardless of your prowess with a claw hammer, you won't leave those nasty waffle marks behind.
As this is a two-piece tool, it's not quite as durable as the rest. You can still pry nails and boards apart, but you'll want to be careful with the latter. Fiberglas is strong, but not ideal when you really need to pull something apart. That's not necessarily a negative with the 1954889 – just a general fact.
One advantage IRWIN Tools hammer has over others is in the comfort department. The handle is covered with a ProTouch no-slip grip, with a slight curve and hard end cap. It's available in three weights as well in case you need something a little beefier. The 16 oz model has a fiberglass handle while the 20 oz hammer  has a one-piece design and magnetic nail holder. The 21 oz rip hammer is made for framing with a milled face, forged head, and curved hickory handle.
Features
Forged steel head
ProTouch grip
Fiberglass handle
Smooth face