IQAir air purifiers are some of the most highly rated and frequently recommended options out there, and with good reason. The combination of top-level filtration with user-friendly features makes them an ideal choice for tackling a wide array of common air contaminants, including smoke. It's also highly recommended for allergy sufferers and can help alleviate symptoms for a whole host of breathing-related ailments.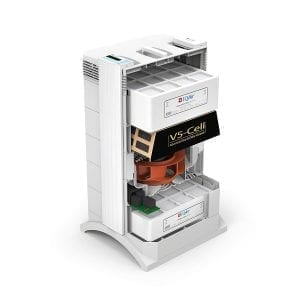 The secret to the HealthPro Plus' next level filtration is its two-stage process. It first uses a microfiber pre-filter, followed by the standard HEPA filter.
This not only lets it remove more contaminants from the air (nearly 100% of particles as small as .003 microns) it also extends the life of your filters. The way the HealthPro is designed also makes it very efficient, which you can translate to mean less energy use and a quieter operation.
The filters are also triple-sealed so you know no air is going to escape without passing through the filtration system. It also uses charcoal in the filtration, which is very effective at eliminating odors.
Here's the deal:
The HealthPro Plus is definitely not small or cheap.
The charcoal filtration adds some extra weight, and it's a solid, sizeable piece of equipment with a fairly industrial look about it. Unlike some of the options on this list, it doesn't come in a variety of colors or blend in with your home décor.
In terms of price, it's also going to set you back quite a bit more than what you might expect from a home air purifier.
But, hear us out…
For that extra investment of space and money, though, you'll get a professional-grade air purifier that will eliminate smoke smells so thoroughly it's like they were never there, and that's surprisingly easy to use given the amount of power it puts out.
Features:
Coverage area: 1,125 square feet
Operating noise: as low as 25 dB
Filters: HyperHEPA
Filter life: Up to 2 years
Dimensions: 16" X 15" X 28"
Weight: 35 pounds
10-Year Extended Warranty