If you want to get the ultimate in home air purification, IQAir is the company you want to turn to.  The HealthPro Plus is the top-rated model for alleviating allergy symptoms and was rated a Best Buy by Consumer's Digest.
Here's the deal:
The IQAir is an investment.
But it's worth it.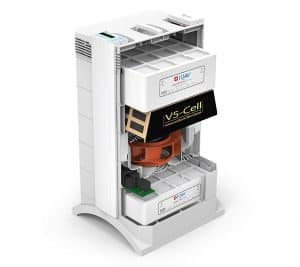 It's the only option that can give you medical-grade filtration, making it our top overall choice for performance. The HyperHEPA filters are up to 100 times as effective at capturing pollutants as other HEPA filters. The filtration is so advanced that it can even capture viruses like the cold and flu, something most home air purifiers can't do.
We also found it to be a really easy model to use. There are three filters, but they're all easy to change and don't need to be replaced often. There's a readout on the control panel to tell you the remaining feature life, which is handy. You can also set the purifier to run on a given day of the week, or put it on a timer, a convenient option if you don't want it running all the time.
The HealthPro Plus is built to clean a lot of air quickly. It's better for medium to large rooms than it is for small ones, mostly because it is a bit on the bulky side. It runs quietly enough you won't notice it in a living room or larger bedroom, but it does get noticeably louder on higher settings—something to keep in mind if you're sensitive to noise.
If you're only concerned about removing mold and mold spores, the HealthPro Plus might be a bit of overkill. If you're looking for a more all-purpose solution to your allergies or breathing problems, you can't beat the air quality that IQAir will give you.
Features: