If you want something similar to the last option but meant for one, this is probably the kayak you are looking for.
It has many of the same specs, and the price and value of this kayak is great.
Still, the overall feel of the kayak is quite different, however.
Let's see why.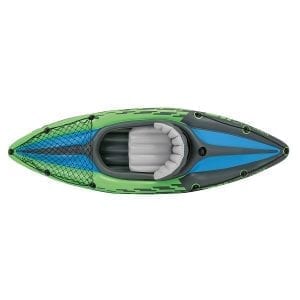 Several factors come together to make this a bit different kayak than that last one overall.
It's meant for one person, so it's shortened which adds a great layer of maneuverability to this product--which we loved. We preferred the tracking on this kayak.
The kayak is further aided in tracking by a skeg and I-beam floor.
But we also found this product to be a bit less well balanced than the last option. The air chambers are smaller, which causes the kayak to respond more to any type of movement.
The cargo net also didn't do this kayak's balance any favors. Storing equipment above the kayak causes it to be more top heavy which makes it more likely to flip.
The Challenger is also a very light kayak at 23.9 pounds. This is awesome for portability, however it can also cause the kayak to be even less balanced, especially on any choppiness.
This kayak also have two separate chambers in the event of an emergency.
We were again unable to identify what coating was used on this kayaks "puncture resistant vinyl."
What does it include?
This kayak comes with a paddle, hand pump, and repair kit.
It also comes with a 90 day warranty.
Features
Removable skeg
Paddle included
Pump included
I-beam floor construction