The Premium AC CANBus HID Kit mountings are well tailored to modern cars. Those who have installed these HID lights have experienced very positive results. Like the other kit we reviewed from Innovited, the Premium AC Canbus kit boasts a long lifespan--5,500 hours to be exact. Although you should take note, there are reports of decreased color quality near the end of its lifespan.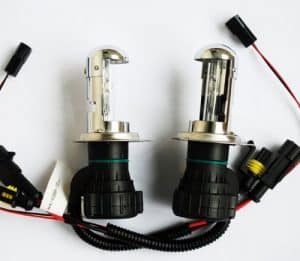 The core difference with this version is the CANBus compliant ballasts. Which, much like the OPT7 kit, can alleviate common issues when installing on cars with the CANBus system. You are in luck if you own an Audi, BMW, Volkswagen, or Dodge.
This kit also comes with a relay harness, making it easier to install, and a warranty.
The bulbs are bi-xenon, so if you're after that dual beam, you are in luck. Just make sure to check both your car and the kit's instruction manual before installing to avoid errors when transitioning from high to low beam.
At only 35 watts, this is a lower power option than some of its peers. However, the strong shelf-life of the bulbs and CANBus capability should negate any downsides to this HID Kit.
There is a wide range of fitting sizes available, which should cover most car types and sizes. Though we should mention, some users report slight issues with the fittings. With that in mind, you may find yourself needing some modifications to really make it work.
Specification Sheet
Range of fitting sizes
Relay Harness Included
CANBus Ballasts
5,500 hours service life
Bi-Xenon bulbs
Warranty
35 Watts