Innovited's latest HID Kit is another popular option for car owners, and it features a big key difference, a "slim ballast".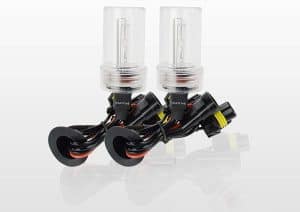 Innovited's mountings are known to be better suited for modern cars, so it's recommended to check and see which cars have successfully installed this kit over others. The range of compatible fittings is quite vast and should cover most cars.
With a set of 55-watt ballasts and bulbs, this HID kit is more powerful than most stock HIDs, giving a strong and crisp color. The bulbs, however, are of a lower quality than those in the OPT7 and Kensun range and do tend to wane in performance near the end of their shelf life of 5,500 hours.
Some users even report a minor change in color.
Still, the Innovited HID Kit comes with a warranty and is very energy efficient. It generates less heat than most HID kits during operation and does have a long-advertised service life.
Like the Kensun however, you'd be dipping into the wallet again if you need to sort out some of the common HID errors, with no relay harness and no capacitors included.
Still, overall performance is strong, and the color is, more often than not, as advertised.
Specification Sheet
A wide range of fittings
Range of temperature and color
55 watts
Warranty