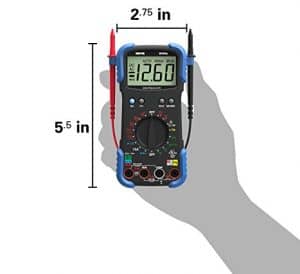 If you're looking for the best multimeter that has additional applications beyond your average home electrical troubleshooting, the INNOVA 3340 unit may be right for you. This device also offers the ability to test automotive engines and the problems associated with alternator diodes, duty cycles, and solenoids.
The device has auto-ranging, auto shut-off, and overload protection. It measures in both Celsius and Fahrenheit temperatures and is UL certified for your safety.
While this device has more of an automotive application, it may be ideal for you as a homeowner as it's more an entry-level model that's simple to understand and use.
It comes with additional features that allow for handsfree operation such as a holder for the test leads. Additionally, the device includes both a clamp and carrying case. It has rubber guards that protect against drops and dial-in functions.
Features
Separate thermometer for temperature readings
Auto-ranging, auto shut-off, and overload protection
Measures temperature in Celsius and Fahrenheit
Save retrieved data
UL certified