Single induction burners are the most popular option for consumers short on space, but not ideal for everyone. If you need a little more firepower in your kitchen or RV, the Inducto Dual Induction Cooktop should be towards the top of your list.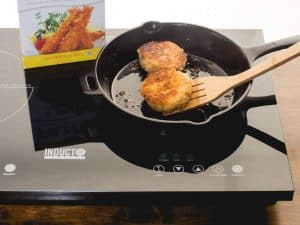 The designers at Inducto took a few cues from the Sensor Touch 8310ST. That's not a bad thing as we love the design of the cooker and its touch-based controls. There's also less chance of damage with this particular model due to its size. It's not quite as portable as a single burner system considering its 26-inches wide and weighs around 18 pounds.
When it comes to sheer power, this one beats the rest with 2000 watts total. There are eight power settings from 200 to 1800 watts or 140 to 460 degrees on the temperature scale. It still uses a standard power outlet, however, and has all the bells & whistles you'd expect from a high-end dual cooker. It also has independent cooking zones.
Those controls are far enough away from the 8-inch cooking zones to keep your fingers safe. Each side has controls which allow you to adjust the temperature, a safety lock, and controls for the power and modes. There's also a 4-hour timer to go along with a 24-hour preset timer if you want to schedule a boil. Safety features include an auto shut-off function and overheat protection.
Two zones are better than one…
While that may seem like an obvious fact, it's especially true with the Inducto Dual. All dual systems allow you to control each side, but some pack those controls into one panel. This one has a dual set of touch controls which lets you split the wattage between sides, but there is one limitation. You can't get an even split as the power maxes out at 1800 watts on either side.
You won't get any extras with this cooktop aside from a user guide, so you'll want to have a magnet handy to test your current cookware. The Inducto Dual comes with a 1-year warranty and is your best option if you need a dual burner cooktop that won't break the bank.
Features
2000 watts max
Independent cooking zones
4-hour timer
Auto-shutoff