The Weeping Demon definitely looks different than any other wah pedal out there—and the unique design is more than just skin deep. Ibanez as a brand has historically been associated more with guitars themselves than with effects pedals, but after hearing the Weeping Demon at work, it's clear their expertise extends to all things guitar.
This pedal comes from the company's Tone-Lok series, all of which have one particularly unique feature. The pots can be pushed down inside the case once you've got them set. This prevents the knobs from getting damaged in your gear bag and makes sure you don't accidentally change your settings once you know where you want them.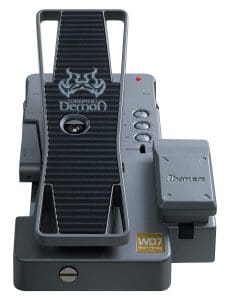 And it gets even better.
There are also two different operating modes. In Auto-Switch mode, the effect starts as soon as you push the pedal; if you change to Foot-Switch mode, the battery box on the right of the pedal functions as an on/off switch instead. Since most players have one style they prefer, you probably won't change this setting much, but it does make it more appealing to a wider range of players.
And this pedal isn't just about neat design gimmicks. The sound is rich, full, and harmonically complex. It uses electro-optical technology rather than pots or inducers. This eliminates the interior components most likely to fail and makes it an overall more reliable pedal. The aluminum housing is sturdy, although the pedal itself we found didn't have the same heft as some other options on this list—it takes a lighter touch, which might take some getting used to. The pedal resistance is adjustable, too, which is a nice feature that can help you get used to the design.
Features:
Controls: Lo, Q, and level knobs, range toggle
Operational modes: Auto-switch and foot-switch
Power: 9V battery or adapter (not included, get one here)
Connections: ¼" input and output (get cables)