If you want to tweak your garage, the 1-pack or the 4-pack from HyperSelect might just be the choice for you. They've got a pretty good consumption, a large 49-inch size, and a cool steely finish.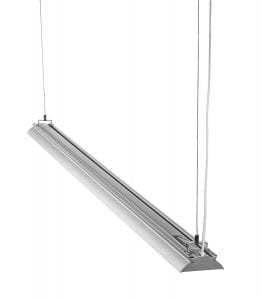 But is this good enough to be the best garage lighting system?
Let's find out.
The 5000K temperature ensures a crystal white light, hitting the right spot our research discovered as the best for garage lighting systems. The 35 W consumption for the 3800 lumens output makes this fixture an efficient 108 lumens per watt.
Its size is pretty good as well, measuring 49-inches in length--some of the biggest on the market. The long hanging mount chain is helpful too, allowing for a wide variation of installation layouts.
On the downside, we've noticed they're quite difficult to install, with a needlessly complicated hang system. And they're not linkable.
Can this pack be the best garage lighting system?
Well, besides the problems outlined before, we also had troubles with the cord. Our focus group reported having problems installing this fixture the way they wanted because the plug-in cord is only 3 feet long.
Experts we've talked to generally favored this piece, but one of them said HyperSelect sometimes sends LED bulbs with a 4000K light temperature, instead of the marketed 5000K light. With all of that in mind, we generally had a fun time setting this system up, and the overall quality is not something to dismiss; it's just that it needs some improvement.
Features:
5000K light,
35 W consumption
3800 lumens
49'' in length
Pack of 4 or pack of 1