Imagine a plate full of light. Turn it upside down, and you'll get this massively bright and very large Hyperikon Light Fixture, with motion sensor included.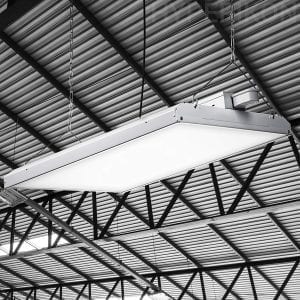 Sounds good, but can you count on it as a good garage lighting?
This Hyperikon massive lamp emits a light that measures 5000K in temperature. The other specs, however, are not that usual, with a consumption of 165 Watts that does go somewhere, specifically in the 22,000-lumen capacity, also amplified by the 23-inch long by 17-inch wide size.
How did the Hyperikon fare in our testing?
That 22,000-lumen output is an obvious change compared to other products.
This thing is really, really bright.
We weren't surprised by this, but we certainly appreciated the near daylight feeling it provided in a spacious room.
Our focus-group also seemed to approve of the product, but, once again, the experts had a few things to say. First of all, dimming works pretty weak on the product, only being able to reduce about 10% of the brightness, and secondly, the light output is pretty directional, so you're going to need more of these to be able to properly distribute their lighting.
Other than that, one last thing we'd like to mention is how clear and actionable the instructions are, making set-up a blast.
Features:
5000K light temperature
165 Watts consumption
22000-lumen output
23'' / 17'' in size