Rubbermaid makes more than just storage containers. The Rubbermaid Reveal Spray Mop is a tool for cleaning tile floors without steam heat or a bucket.
How does that work?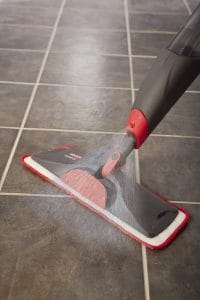 This mop has an attached bottle (for hot water and optional cleaning solution) for spraying liquid onto the floor before wiping it. Capturing 50% more dirt and dust per swipe than traditional mops do, Rubbermaid Reveal Spray Mop's microfiber cleaning pads are reusable and machine washable up to 100 times. When you finally need new cleaning pads, click here. To tackle especially tough spots, use the mop's non-scratch scrubbing pad.
But wait there's more:
Users like how "customizable" the Rubbermaid Reveal Spray Mop can be. Mix your own cleaning solution–just fill the bottle with hot water and two teaspoons of your favorite cleaning solution. A manual spray trigger lets you squirt out as much or as little solution as you desire, depending on dirty the floor is.
To see how the Rubbermaid Reveal Spray Mop works, watch this demonstration.
Features
Dimensions: 16.5" x 5.5" x 57"
Made of durable material
22-ounce refillable bottle