The product is made of heavy-duty 304 Stainless Steel and has a 10-inch by 10-inch shower head. It has 100 equally distributed nozzles that give out superior water flow coverage. We feel that the elaborate design of the product makes it super easy to clean and maintain in the long run.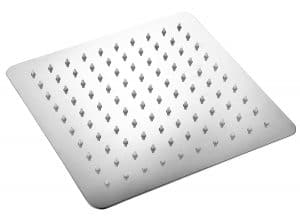 The product also features an extension arm so you can adjust the angle and height of the shower head. It has a 2-foot vertical movement range providing more than enough width to the use of the product and 180-degree adjustable solid brass ball joints.
The product is easy to install with little to no use of any particular tools and offers a limited time warranty.
But sadly…
The products extension arm isn't durable. The base of the product has to be secured with a lot of tapes and even then there have been a number of cases related to water leakage or damage to the unit.
The product is beautiful but is a disappointment when it comes to lasting performance.
Features:
Heavy-duty 304 Stainless Steel Construction
Giant 10" face with 100 nozzles for superior water flow coverage
Easy to Clean Rub-Clean Jets
Fashionable Ultra-Thin Square Design
Solid Brass Ball Joint Nut for reliable connection
High-polish Chrome Plated Finish
Angle-adjustable
Easy tool-free installation