This is the biggest Hot Wheels garage ever released. And it comes with a ton of cool features that he will love.
What's it do?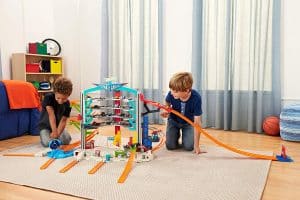 All kinds of things.
This toy features several action zones including a chomping shark, shop, gas station, and helipad.
The garage itself can house 36 cars and the play space can hold more, as well.
The sides both have downward spiraling tracts what can be driven to from the garage spots. At the end of each of these is one of the action spots.
Two elevators can carry the cars back up from the action spots.
The best part...
The thing we really love about this garage is it can connect to any other tracks you have, as well. This product will go great with toys they probably already have, or give them something else to ask for next time.
It comes with a few extras, too.
Five Hot Wheels are included to start their collection off or add to what they already have. There's also a helicopter, which can be stored nicely on the garages' helipad.
You can sweeten the deal with additional Hot Wheels.
How long will it last?
This is something that will get a lot of use for its storage features even if the kid decides not to play with it much. So you can expect happy parents with regard to longevity of the toy's usefulness.
Hot Wheels themselves are usually extremely durable. And the track is made of bendable plastic, so you won't have to worry about those breaking either.
Overall, there's not much to worry about in terms of structural integrity with this product.
If you do find something wrong, you can return it under the 30-day warranty no questions asked.
Features
36 car spots
Two elevators and wheels
One helipad
Three action zones
Five Hot Wheels
One helicopter