Coming in at number four on my list is another floor cleaner, not necessarily a "vacuum". This Hoover product is called the FloorMate Deluxe Hard Floor Cleaner and it is definitely built with hard floors (particularly tile floors) in mind. This hard floor cleaner is specifically designed to perfectly clean your floors and leave them clean enough to eat on.
Specially designed SpinScrub brushes
These specially designed brushes are made to do all the "heavy" work for you. This is ideal for tile floors because they tend to be uneven and the grout joints can be easy to miss without a little elbow grease. Personally, I have no desire to clean my tile floors on my hands and knees to get that perfect clean! Additionally, if you are transitioning from a tile floor to a softer hardwood, you can turn off the spinning brushes to prevent scratches.
Wet/Dry Feature selection
Although this Hoover product isn't technically a vacuum by nature it does have wet and dry functions. The wet function is for your more intensive clean and does use the water tanks. The dry feature, on the other hand, simply uses the suction feature of the device to pull up extra water and hasten drying time. This is great if you are cleaning in a hurry and need to dry quickly or are concerned about little ones slipping on wet floors.
Dual Tank Technology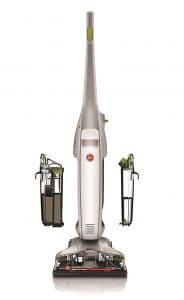 Dual tank technology has become one of those little luxury things that take your cleaning experience from drab to fab! I love that the two tanks keep the clean water and dirty water separated so I am sure to get the best clean possible for my household floors.
A few other bonuses in using this product if you do have the ability to add extra water/detergent in the event of a very sticky or difficult to clean the mess. With toddlers and children in the house, this is not an uncommon occurrence, so it is reassuring to know I have a machine that is prepared!
It is also on the lighter side of things coming in around 14lbs empty. I wouldn't say it is the lightest machine we are comparing in this article however, it is easy enough to maneuver and transport to different levels of your home if necessary. Just keep in mind if you have a full tank of water/detergent on board you are likely adding a couple of pounds to this weight.
But
I only found one major con to this product that was mentioned consistently among fellow reviewers. It seems that while the motor is powerful, they don't last long. One user mentioned burning out two motors in just 6 months. Now I am not sure if this was specific to her bad experience but after reading more.
I did find that many others were saying similar things about losing power and burning out before their time. At the price tag this floor cleaner pulls, I would expect a little more from the motor and this is something that may make me hesitate to purchase.
Additionally, the cord on this unit is on the shorter side, coming in at only 20ft. So while it may be easy to carry up and down stairs you may find yourself searching for an outlet more often than you may like.
All in all the Hoover FloorMate Deluxe Hard Floor Cleaner seems to have all the right features for expertly and easily cleaning tile floors in your home. However, be wary that it doesn't have a long lifetime and that all of those features mean it pulls an affordable, but the higher price tag, than some of these others on our "best" list for your tile floor vacuum.