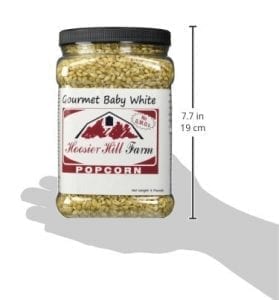 When you hear the name Hoosier, Indiana is usually the first thing to come to mind. Hoosier Hill Farm popcorn hails from that great state and is an excellent alternative to Orville if you're looking for a budget-friendly kernel.
Hoosier Hill opened its doors in America's heartland back in 1999, and while they provide things like espresso and spinach powder, we're just going to focus on popcorn this time around. Their corn comes in 4-pound jars, and they currently have around a half-dozen kinds of kernels available. That includes Mushroom if you prefer large, brainy popcorn along with Persian Blue, Ruby Red, Yellow, and White. Regardless of the hue, all of their kernels are free from GMOs and have a high pop rate so you won't have to deal with many old maids.
The white kernels are our favorite as you can add your own toppings. They are also small with a minimal amount of hulls considering they are based on an old Japanese hulless strain. Overall, Hoosier Hill's popcorn won't disappoint and has a nice price point compared to similar kernels in this class.
Features
7g of fiber per serving
Non-GMO